Projects are typically imported from your accounting system using SpringConnect. They can also be added by hand using the Add Project button.There are additional guides on the Budget, Invoicing, and Tasks tabs, but using this article, you will:
Configure your projects for time entry and/or expense submittal
Add people to your projects
Configuring Your Projects
Log in as an administrator.
Click Settings.
Click Projects.
Click on a project that your team submits time and/or expenses to.
Within the project, click on the Details tab. Enter the date that the first employee can start recording time to the project in the From field in the Project Dates section.

This is the start date of the project. Time will not be able to be entered before this date. The end date or "To" field is not required, but if set, time will not be able to entered after this date.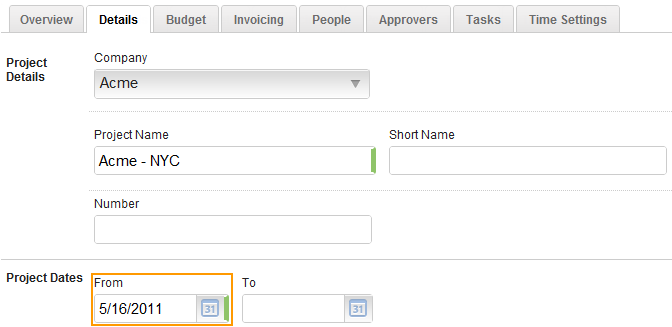 Next, click on the Time Settings tab within the project.

By default, Regular will be turned on automatically. If you are tracking additional types of time, click Add Standard Time Type to enable them.

The standard time types are Overtime, Doubletime, Sick, Holiday and Vacation time.
If you require time types that are not built in, you can create custom time types.

If you want a project manager to approve time, click on the Approvers tab within the project. In the Manager section, select the Project Manager from the list, and toggle the Manager Approves Time button to Yes.

Adding People to Projects
By specifying the users that can enter time to a project, you have total control over what jobs each user can submit time and expenses to. This streamlines the data entry process for users, reduces the potential for errors and safeguards your client list. If you would like all of your users to be able to record time to the project and not have to specify each one individually, you can simply select to Track time for "All time users". This is particularly useful for administrative time and paid time off.
Within the project, click on the People tab.
Grant time entry access to the project by selecting All time users or Only selected time users.

If only a select few can input time to the project, click Add Person to add them to the project. Select the person's name in the Name drop-down menu. Note: you can leave the Date Start blank here as it will be filled in for you from the project's Start Date. If you want access to this project to start at dates different from the project start/stop dates, enter them here. You can also see that this is a place to enter rates and items. These rates and items will override what is set at the on the person profile.
After inputting the details for each person, click the green Add Person.
Click Save and Exit at the bottom of the page.