When you access your account for the first time, you will be prompted to use the Setup Wizard to configure specific settings and parameters for your company. You will be able to make changes later on. These are the settings that you will initially be able to set up using this wizard:
Global Settings
Time Preferences
Expense Report Preferences
Invoice Preferences
Global Settings

Set your default currency.
Select the accounting system that you will be syncing with (i.e. How you would invoice your clients).
Select the payroll system you use to pay your employees.
Select the frequency in which you would pay employees .
Time Preferences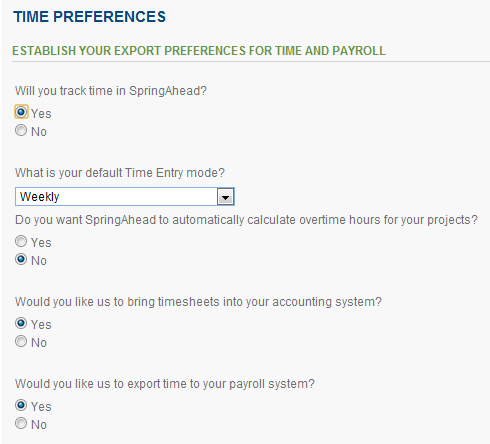 Tracking time – If you use SpringAhead to track time, select "Yes."
Select the default time entry mode – Weekly, Time-In/Time-Out, Clock-In/Clock-Out.
Automatically calculating overtime hours for projects – If selecting "Yes", set overtime rules for daily overtime, weekly overtime, and double time (Overtime rules can be changed later on a project-by-project basis).
Bringing timesheets over to accounting system – Select "Yes" or "No."
Exporting time to payroll system – Select "Yes" or "No."
Expense Report Preferences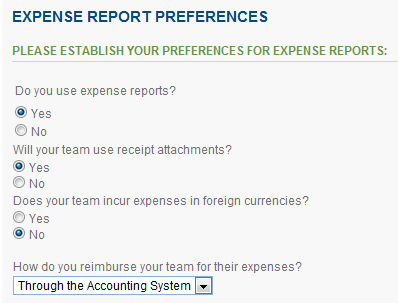 Expense reports – Select "Yes" if you will be tracking expenses.
Receipt Attachments – Select "Yes" if you would like receipts to be scanned/uploaded into the system.
Expenses in foreign currencies – Select "Yes" if any expenses will be done with foreign currency.
Expense reimbursements – Select "Through accounting system" (e.g. QuickBooks) or "Through payroll" (e.g. ADP, Paychex).
Invoice Preferences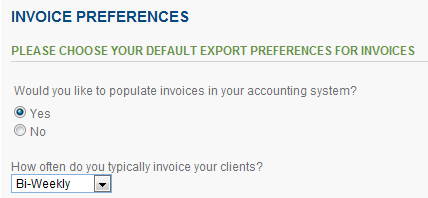 Populating invoices in accounting system – Select "Yes" if you would like SpringAhead to bring over invoices
If "Yes", select the frequency for client invoicing
Please Note: If you would like to change these settings manually, feel free to continue to the Settings page and click My Company. Likewise, you can always run the setup wizard again by clicking Setup Wizard in the left hand menus.