Using QuickBooks Online and SpringAhead for Invoicing Follow
SpringAhead has an invoicing feature that you can use to populate your invoice template in QuickBooks Online Edition with the time data that is collected in SpringAhead. Using this guide, you will:
Configure settings in My Company for invoicing
Review the additional invoicing options
Review QuickBooks Online limitations
Configuring Your Invoicing Settings
To set up your company for QuickBooks Online Invoicing by using SpringAhead to create invoices and have them brought into QuickBooks:
Log in as an administrator.
Click on Settings, then click on My Company.
Scroll down to the Invoicing section.
Export Timecards with Invoices.

Check this box if you are exporting timecards to a 3rd party payroll provider, but still would like to have the timecards in QuickBooks Online.

Check the box labeled Export Invoices.
Select QuickBooks Online in the Accounting Software drop-down.
Select the Invoice Cycle.

The invoice cycle is the most common frequency in which you invoice your clients. This can be changed on a project-by-project basis.

Select the Invoice Date.

This is the date that appears on your invoice.

If set to today, the date will be the day you export.
If set to custom, SpringAhead will ask you for a date each time you export.
Reviewing Additional Options
These are the additional settings that you can select to bring more data onto your invoice in QuickBooks Online:
Include Time Descriptions on Invoices

Tells SpringAhead to send notes from the timecard to the description field on the invoice.

Use Item Description on Invoices

Checking this box overrides the default invoice description above and uses the item descriptions in QuickBooks Online.

Invoice Description

SpringAhead has a lot of control over what populates in the invoice description. See Customizing the Invoice Description.

The default invoice description is %Name% - %Dates%
Default description translates to Connie Contractor – 01/01/2012-01/07/2012
Reviewing QBO Limitations
Unfortunately, Intuit has locked out the below invoicing features. These are inaccessible for all integrated applications.
Ship To

This field is automatically created. You can easily turn this off by clicking on Customize at the upper right of the screen.

Click through until you see shipping information. Uncheck Shipping and it won't show when it's going to the invoice.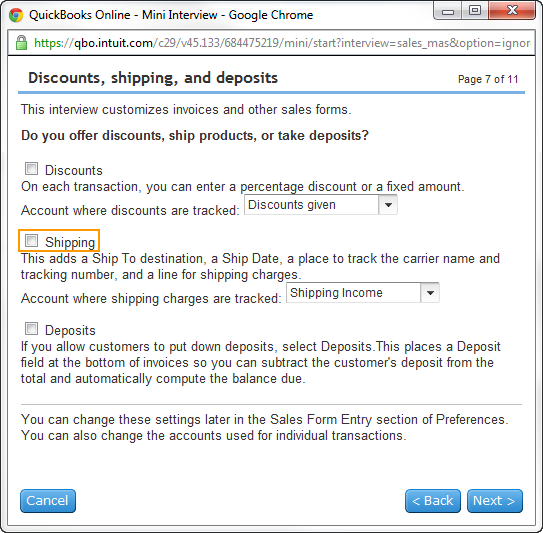 Customer Message
Location
Bringing invoices over as "To Be Emailed" is not allowed