Exported Data in QuickBooks Follow
You've just exported your information from SpringAhead to QuickBooks. Here's a guide on how to find the data in your QuickBooks file.
QuickBooks Desktop
Invoices
In the Home screen, click on Create Invoices
Click Previous to see invoice(s) that SpringAhead last populated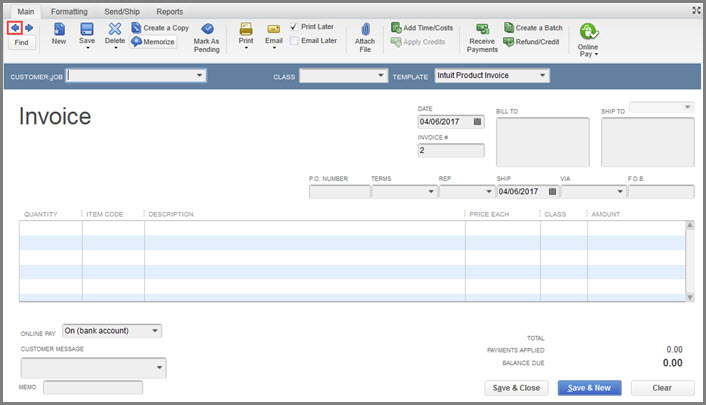 Bills
In the Home screen, click Enter Bills
Click Previous to see the last exported bill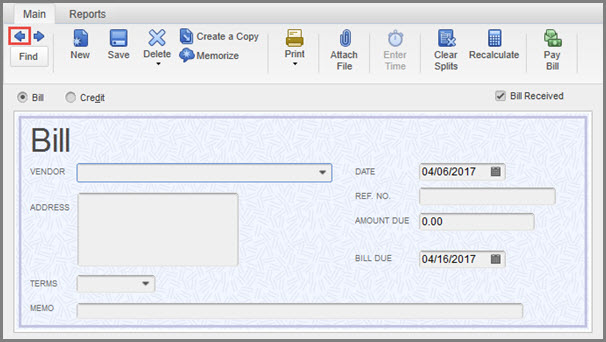 Checks
In the Home screen, click Write Checks
Click Previous to see previously exported checks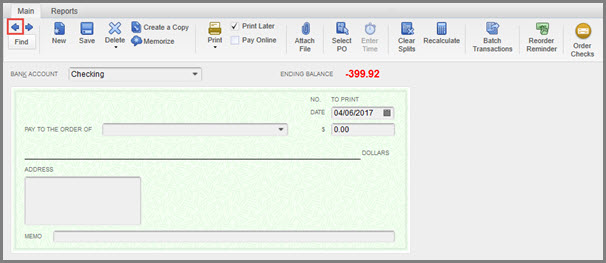 How to add billable expenses to an invoice
Open up the invoice to the client or customer. This can be either an invoice you created yourself in QuickBooks or an invoice we've created and exported from SpringAhead
Click Add Time/Costs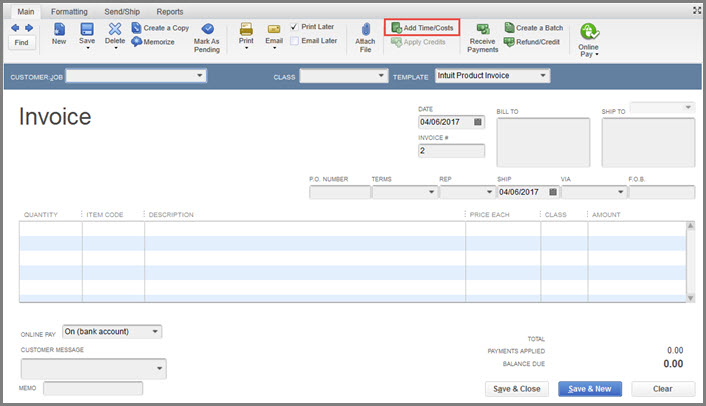 Select the appropriate tab (Expenses or Items)
Check what you'd like to add and click OK. It'll add the billable expenses onto the invoice
Timecards
In the top menu, click Employees, click Enter Time, and click Use Weekly Timesheet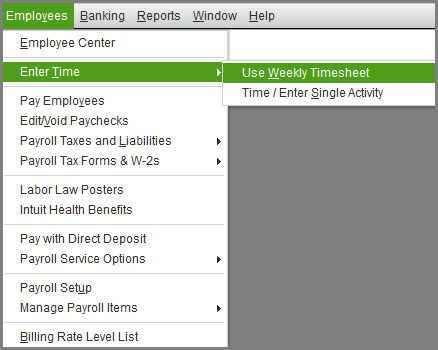 Select the appropriate employee
You'll see the person's time, service item, other assigned info and his/her hours
QuickBooks Payroll FAQs
If using QuickBooks to run payroll, ensure the following setting:

Go to the Edit Employee screen
Click on the Payroll and Compensation Info tab
Make sure Use time data to create paychecks is checked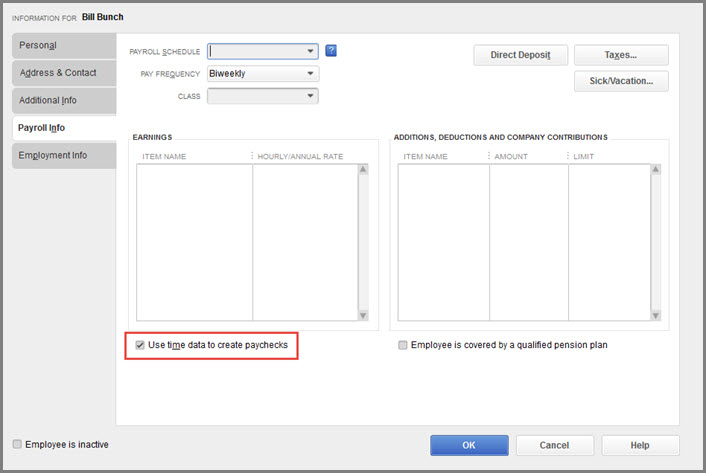 The timecards will now show up when you run payroll
If you have any questions on how to set this up, please contact your QuickBooks Payroll advisor
Job Costing
Click here for a guide on how to use project/job costing. If you would like to learn more about using QuickBooks for job costing, contact a QuickBooks Pro Advisor.
Journal Entries
In the top menu, click Company, and select Make General Journal Entries
Credit Cards
In the Home screen, click Enter Credit Card Charges
QuickBooks Online
This guide will refer to the Customers list as such, although you could have named it something different such as Clients.
Invoices
Click on the Create icon, then click on Invoice to open an invoice.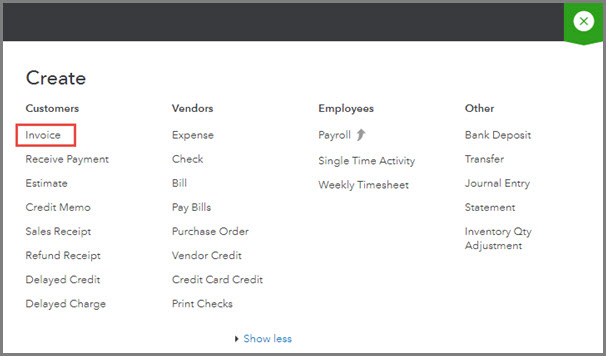 Then, click the action wheel to see the list of most recent invoice

Fields not allowed / unsupported in QBOE (Intuit lockouts, no one can change it)

Customer Message
Location
Bringing invoices over as "To Be Emailed" is not allowed
Bills
Click on the Create button, then click Bill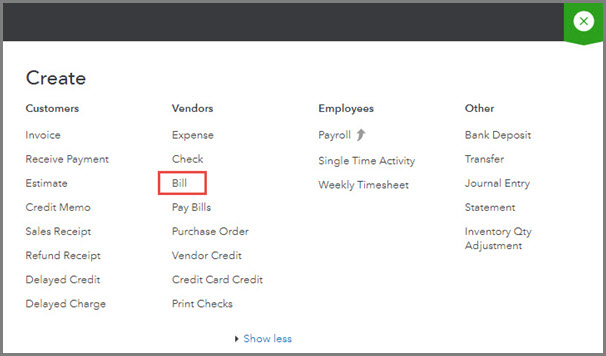 Click the action wheel to view recent bills

Cannot be brought over as billable
Workaround: Run a detailed report on expenses by client for the time period exported and check Billable onlyand they would match up

QBOE Lockouts

QuickBooks Online only maps expenses to expense accounts and cannot be mapped to service items
Checks
Click on the Create button, then click Check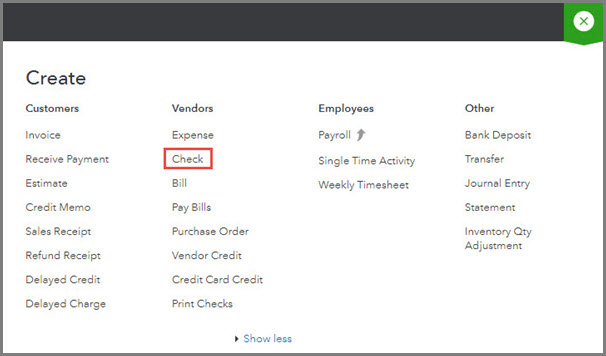 Workaround: Run a detailed report on expenses by client for the time period exported and check Billable only and they would match up
Click the action wheel to view the most recent checks

Cannot be brought over as billable
QBOE lockouts

QuickBooks Online only maps expenses to expense accounts and cannot be mapped to service items
Credit Card Charges
Click on the Accounting tab, click on View Register to the right of the associated credit card account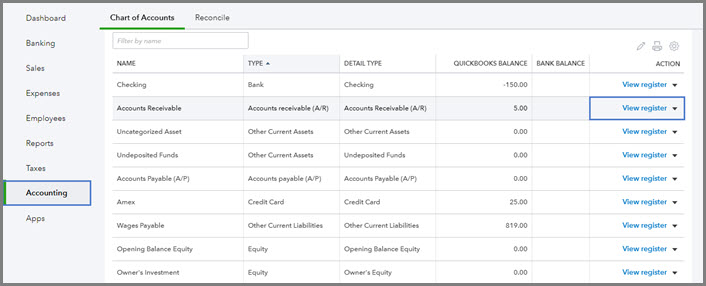 Timecards
To view timecards, you can go to the Create button, then click Weekly Timesheet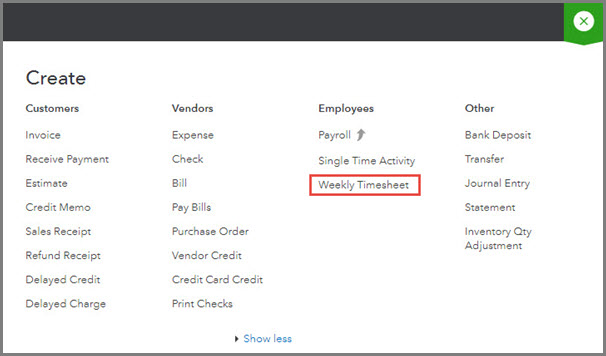 Select your Employee and your Date Range to view the appropriate timesheet

QBOE Payroll lockouts

There is not a spot for Payroll Item for both single activity and weekly timesheets. So if you're using QuickBooks Online for payroll, no matter what service you use, all hours will go to Regular and you would need to manually change it