Exporting Invoices to QuickBooks Follow
SpringAhead can export invoice information directly into QuickBooks. Using this guide, you will:
Review and export invoices from SpringAhead to QuickBooks
Exporting Invoices from SpringAhead
Click on Invoices.
To review rates and invoice line descriptions that will be sent directly to the accounting system, set the Detail Level to Detailed.

Review information to be exported.
Uncheck any items that are not ready for export, as applicable.
Review the date range(s) to ensure that you have only selected the desired transactions.
Make sure QuickBooks is selected as the software and Include Invoices is checked.
Click Export.
Click OK.
SpringConnect will open and display a summary of data that will be exported.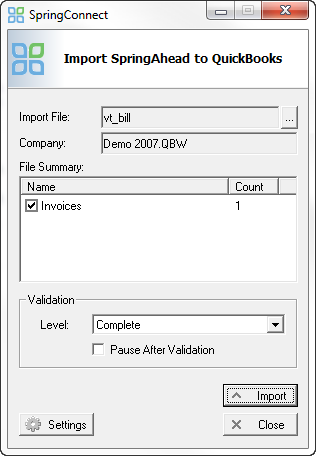 Click Import.
SpringConnect will validate the data to be exported.
If no warnings are generated, click OK.
Click OK after all data has been imported.
Check the data in QuickBooks.

In the Home screen, click on Create Invoices.
Click Previous to see invoice(s) that SpringAhead last populated.