Prepping for Implementation Follow
Welcome to SpringAhead!
Introduction to the areas in SpringAhead and how to navigate the product
Account Overview screen
Access your billing information
How to change your password
Introduction to the Areas in SpringAhead
To get yourself familiarized with the various functionalities in SpringAhead, take some time to browse through the system. There are tabs at the top of the screen that will navigate through the different sections of SpringAhead, such as Review, Invoice, Payables, and Reports. As an administrator, the Settings tab will allow you to see the back end settings of the account where you can manage people, projects, and account mapping information.

Account Overview Screen
When you first log in, you will see your Account Overview dashboard with key pieces of information about your account, such as Account Summary, Basic Settings, and Integrations. It will display details such as the number of licenses in use and the number allotted, the time zone and currency you are using, and the accounting and payroll software that you are integrating with. You have the option to change any of these settings by hovering your mouse over them and clicking Edit, or by going to Settings > My Company to change the settings there.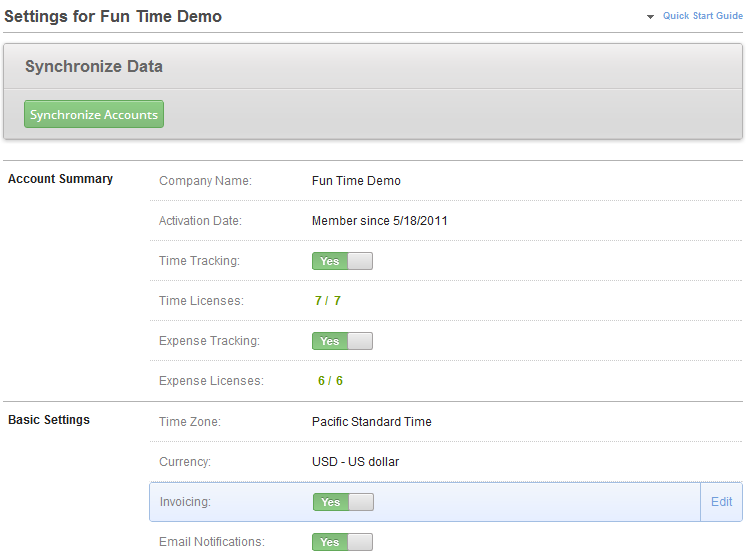 Access Your Billing Information
If you would like to access any billing information, such as credit card details and licenses, or to view invoices:
Click on the Settings tab.

Under Billing, click on My Account.
Change Your Password
Click Settings in the Navigation Bar.

Under My Info, click Change Password.