Creating Payment Methods Follow
Payment methods are the way in which your users pay for expenses and are selectable whenever they create an expense report. Examples of payment methods are cash, check, personal credit card and corporate credit cards. Using this guide, you will:
Creating Payment Methods
Click on Settings, then click on Payment Methods on the left-hand menu.
Click Add Payment Method.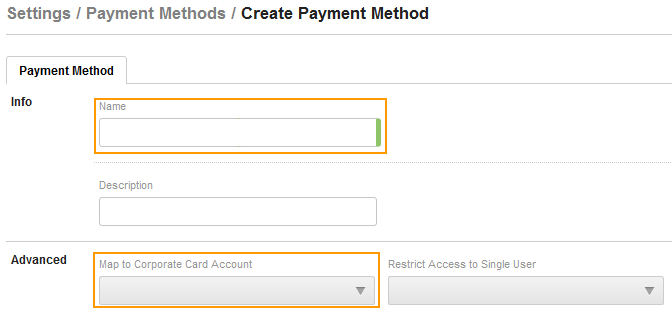 Enter the Name as you would like it to appear (e.g. Credit Card, Corporate Card, Cash, Check).
For a corporate credit card, select an account from the Map to Corporate Card Account field. Leave this field blank if the payment method isn't for a corporate card
If the payment method is for a person's corporate card, use the Restrict Access to Single User field to show this payment method exclusively to that person.
Click Save.