Configuring with QuickBooks Payroll for Project Costing Follow
This document explains how to set up QuickBooks to break down all gross payroll dollars by projects, based on hours recorded in the timesheet.
Enable manual payroll in QuickBooks.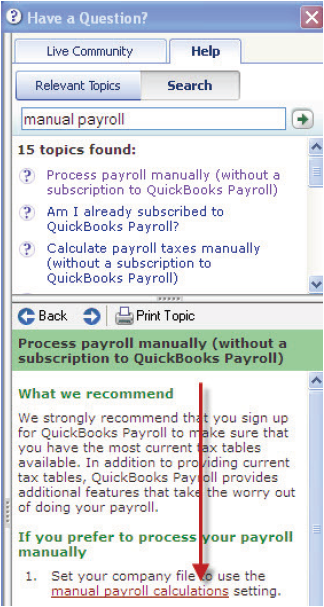 Ensure that hourly / salary rates and payroll items are set up, and that Use Time Data to Create Paychecks is checked for each employee. The key here is to check this for both hourly AND salaried employees.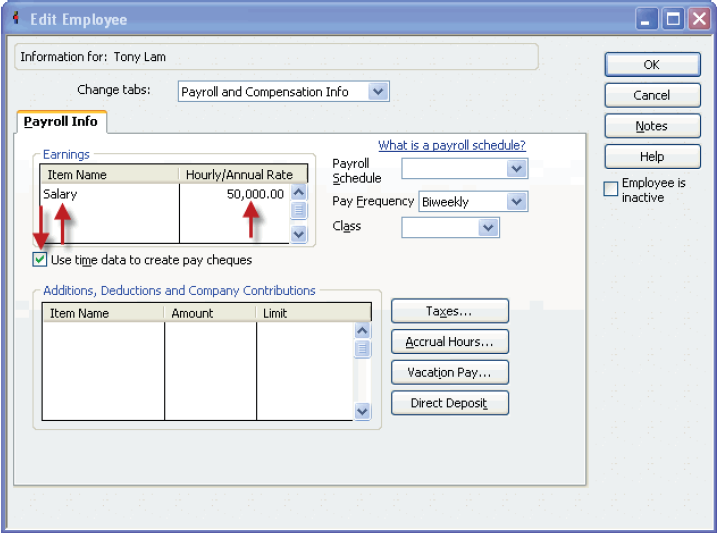 Import timecards from SpringAhead as you would normally.
Open the Pay Employees feature.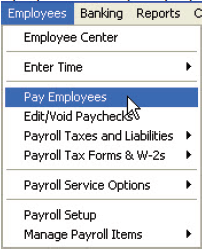 Enter the correct date range for the pay period. If you change it, QB will ask if you want to refresh - say yes to see the new time totals for that period (and ensure that it is correct).
Check the employees to pay.

Create the paychecks. Note that everything is broken out by project . For hourly employees, it's simply by project, hours and rate. For salary employees, QuickBooks back calculates each rate as salary/hours.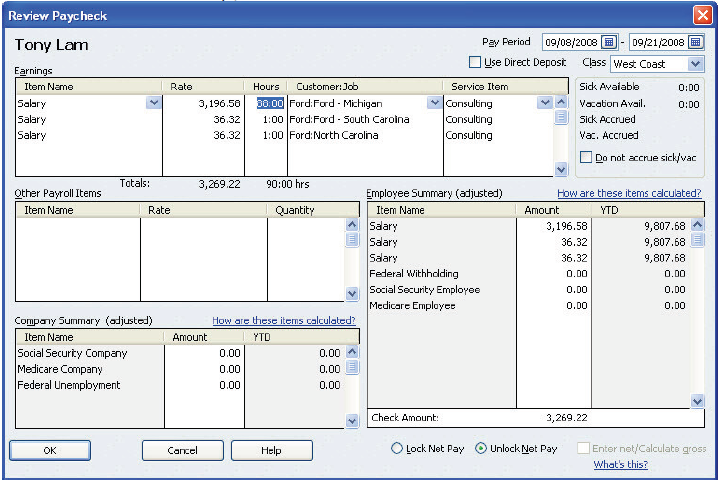 Using this Method for Other Payroll Providers
This method is useful even if you use a payroll service other than QuickBooks. The scenario is that your payroll service will typically withdraw the gross+taxes+fees total amount as one transaction. Following the steps above, you are to create individual checks (transactions) for each employee, which does reflect correctly in the register. One way to make use of this would be the following:
Create a staging bank account for the paychecks. This is like an A/P account (so the checks are not in your normal checking register) that should be zero balanced after we are done. For this example, we will call it "Payroll Staging."
When you create the paychecks, select "Payroll Staging" as the bank account.

Note that the checks will contain no tax information. This is what you want as they represent gross payroll only.
When you get the withdrawal information from your payroll provider, create the transaction in your bank account register, but use one line to deduct the total gross payroll amount from the Payroll Staging account.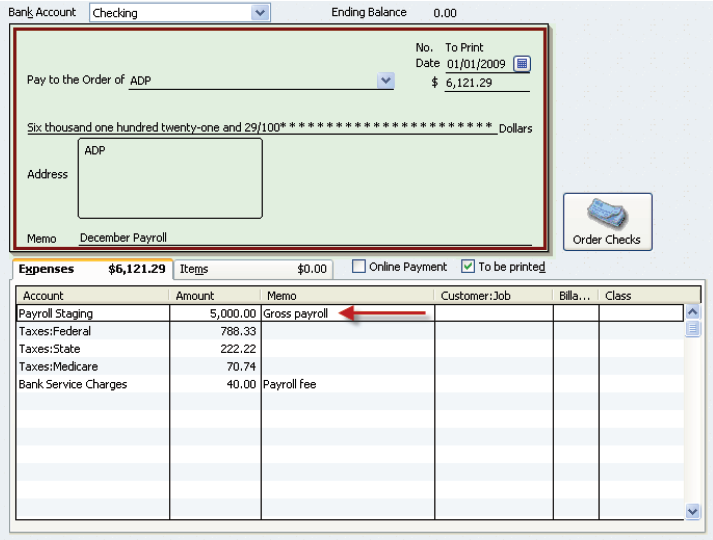 Note you do not have to enter the company gross total, and do not have to manually enter payroll by employee or by project. This has been done for you by QuickBooks in the individual checks.
Check your balance for the "Payroll Staging" account - it should have a $0 balance. This means your gross total matches the sum of the individual employees.
You can now run Profit & Loss reports that correctly incur the payroll for each project, without manual data entry.